Loan Participation Offering
Click on image to enlarge.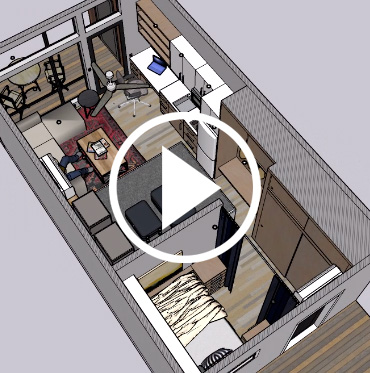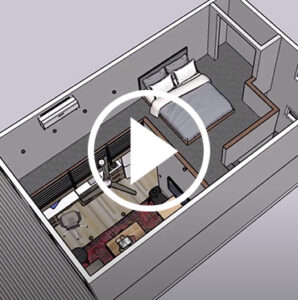 STUDIO UNIT BEDROOM
INTERIOR FINISH STUDIES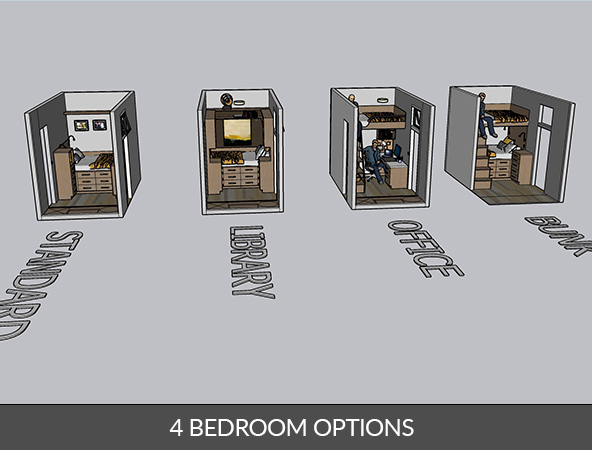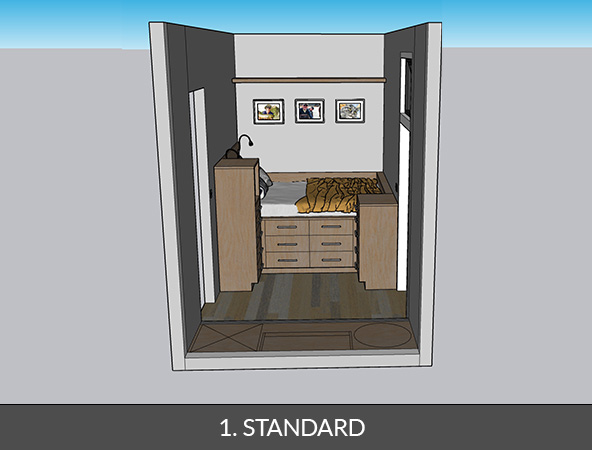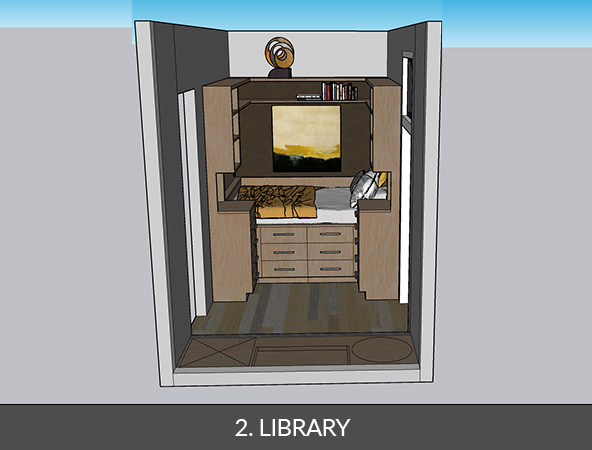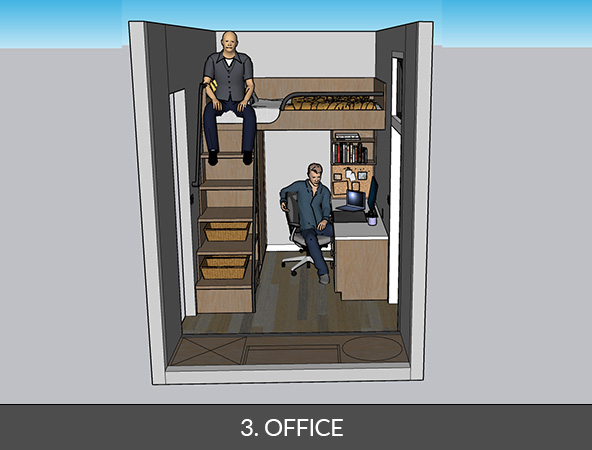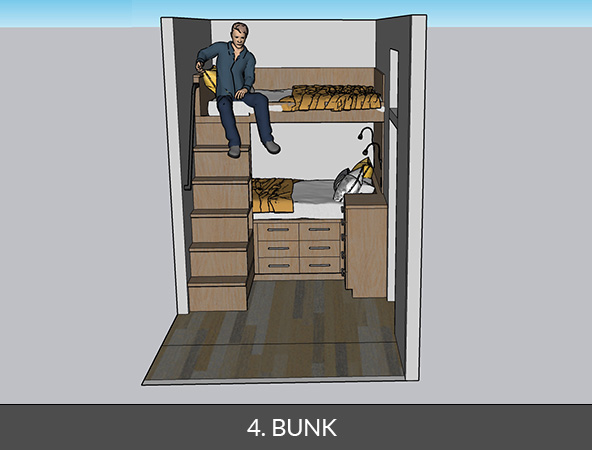 CONSTRUCTION LOAN
30 Unit Micro Condo
Basecamp Lofts + Studios
BORROWER
Basecamp Residences, LLC, a single purpose entity
PROJECT
Basecamp Lofts & Residences
A 30 Unit Micro Condo project in the Whole Foods Market Anchored Center at the Gateway to Colorado Ski Country

LOAN
$2,500,000
TERM
12 Months
FIXED FEE
15%
USE OF PROCEEDS
Construction
COLLATERAL
2nd Lien on Leasehold, Improvements, Entitlements & Plans
ESTIMATED VALUE
$15,473,000
LOAN TO VALUE
65% (1st & 2nd)
ABOUT THIS LOAN
LOCATION Gateway to Colorado Ski Country in the Basecamp Center anchored by the world's highest Whole Foods Market. Basecamp is a unique and remarkable place, where neighbors gather and I-70 travelers provision. It offers literally everything necessary to have a great time in the mountains.
INTERNET  Basecamp Lofts + Studios web page is under construction. Additional information is available at Basecamp Center website, Basecamp Instagram (3,574 followers) and Basecamp Facebook.
MARKET DATA Preliminary pricing has the Studios in the mid to upper $300,000's and the Lofts in the mid to upper $500,000's. There continues to be activity at this end of the market with about 4 months of inventory in the MLS, signaling that we're still in a favorable sellers market. There are 20 comparable units currently for sale with 5 closed transactions in the last 30 days. Currently there are 20 pending sales indicating demand for this product type.  Long term interest rates are similar to rates when we launched the Wellington Neighborhood in 1999.
MAJOR SITE PLAN  On October 6th, 2022 after two work sessions and three public hearings the Frisco Planning Commission approved the Basecamp Lofts + Studios Major Site Plan.  
BUILDING PERMIT PLANS  Building Permit Plan Set has been completed and submitted to the Town of Frisco. 
COLLATERAL The collateral consists of a second lien on Basecamp Residences, LLC leasehold interest in the 2.46 acre, 106,983sf, Basecamp Lofts + Studios development site improvements constructed with loan proceeds and the appurtenant entitlements (Major Site Plan Approval) and plans. MAI Appraisal as of December 1, 2022 valued the collateral at $13,700,000; the aggregate sales value as reflected in the proforma is $15,473,000 (as set forth in the Proforma, "Proforma for Sale" tab, Note 3), $515,767 per unit, $1,179 per net saleable square foot and $741, per gross square foot.  
PROFORMA  Key data from the Proforma  include:
Number of Units   30

Gross SF    20,881

Net Salable SF  13,125

Gross Sales Revenue  $15,473,000

Development Cost   $11,405,830

Projected Profit  $4,067,170

Construction Financing

Mountain Building Solutions Vertical Construction Control Estimate

is $5,699,000, including general conditions, $670,000 fixed GC fee and $457,181 contingency. In addition, there is a Developer Vertical Contingency of $285,968. Horizontal Cost estimates are as reflected in Proforma, "Horizontal Cost Estimate" tab.
Preliminary Homeowners's Association Budget projects annual HOA dues per unit, before adjustment between Lofts and Studios, of $573.34 per month, which includes $200 monthly ground rent.
PROJECT SCHEDULE  Basecamp Lofts & Studios Construction Schedule provides for snow removal to commence April 13th, 2023, horizontal construction (overlot grading and deep utilities) April 17th, 2023 vertical construction (foundations) to commence June 1st, 2023 with closings commencing in May 2024 and completing by July 30th, 2024.
GROUND LEASE  The project is being built on a Ground Lease, 99 year term, rent to be paid by the residents through the Condominium Association.
ENVIRONMENTAL  A Phase I Environmental Site Assessment dated April 5, 2023 concluded: "This assessment has revealed no recognized environmental conditions, controlled recognized environmental conditions, historical recognized environmental conditions, or significant data gaps in connection with the subject property."
SNOW STACK EASEMENT  The property currently has a cloud on title in the form of a snow stack easement which gives an adjoining property owner the right to stack snow on the site.  The town has approved relocation of the snow stack easement and the developer has reached a preliminary agreement with the beneficiary of the easement regarding relocation; the agreement will be finalized and the easement removed prior to the loan closing. 
SUPPLEMENTAL DISCLOSURES AND RISK FACTORS  In addition to the risk factors detailed on the Brynn Grey Private Equity Loans Landing page, the project and therefore the loan has some additional risks including:
COVID impact upon construction costs, supply chain and availability of labor.
By submitting your information, you will be sent, without obligation, a Docusign with a draft Participation Certificate and Agreement for your review.
PRIVACY POLICY:  Brynn Grey will not share any information concerning you, your interest and or purchase of a participation with anyone except as may be required for regulatory filings or court order.